GIRLS LIKE THAT
Shameless Hussy Productions Presents:
GIRLS LIKE THAT
By Evan Placey | Directed by Renee Iaci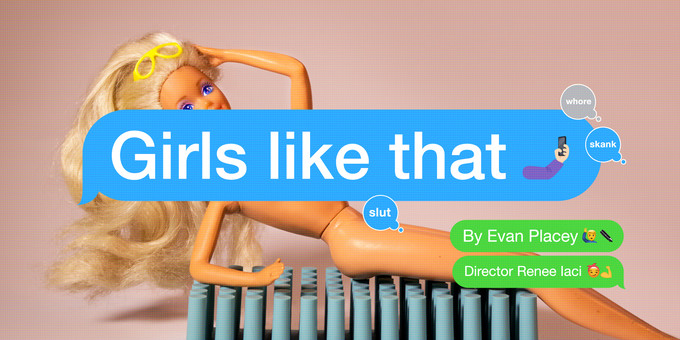 November 3, 7-10 at 7:00pm
ADDED MATINEE November 10 at 2pm
Templeton Secondary School
727 Templeton Drive, Vancouver, BC

Tickets:  $10: available at the door and online
BUY TICKETS

What would you do if a naked photograph of you went viral and you couldn't stop it, couldn't stop the rumours from going wild, and everyone formed an opinion of you based on that photo? In this urgent and explosive, award-winning play by Canadian-British playwright Evan Placey, a young girl named Scarlett becomes the center of attention – but for all the wrong reasons – and she chooses to stay silent, leading to an unexpected, but expectedly, dramatic conclusion.

"Placey's eye-opening, often uncomfortably honest play…deserves to be widely seen by teenage audiences. And by their parents too." – The Guardian

Winner of "Best Play for Young Audiences" at the Writers' Guild of Great Britain Awards in 2015, Girls Like That was commissioned by Birmingham Repertory Theatre, Theatre Royal Plymouth, and West Yorkshire Playhouse. The play was developed through work with young people from the three theatres and first performed by their youth theatre companies in 2013.
Its central message rings loud and clear – women's internalized misogyny has added to the efforts of men in the maintenance of female oppression.

"Shades of a technologically sophisticated Lord of the Flies…laced with biting humour and seriously impressive." – Yorkshire Post

The Vancouver premiere of Girls Like That is directed by Shameless Hussy's Renée Iaci and features a cast of ten teenage performers. The characters are familiar and relatable. The scenes are intercut with short, comedic monologues from women of different eras – a flapper girl, an air pilot, a hippie, a Melanie Griffith-style working girl – women who broke convention, championing over sexism with style and sass. These women represent generations of oppression by the opposite sex as well as the wider society, and ultimately are contrasted by the current generation of girls, selling itself short and oppressing themselves through slut-shaming and bitterness. 

With five explosive musical ensemble numbers, Girls Like That tackles a contemporary subject in a theatrically exciting way, exploring gender equality, self-image, friendship, and the pressures on today's digital generation.


Credits for Girls Like That: Written by:  Evan Placey, Directed by:  Renée Iaci
Performances by:  Alison Moreau, Raquel Francis, Chloe Bray, Savannah Read, Sophia McKinley, Louise Cove, Jasmine McRae, Isabella Tecson, Sasha Cription-Ingles, & Claire Dooley
Musical Direction by: Christina Cuglietta
Lighting Design & Technical Direction by:  Mimi Abrahams
Sound Design by: Stephen Bulat
Choreography by:  Dawn Ewen
Set & Prop Design by:  Carolyn Rapanos
Costume Design by:  Christopher Gauthier
Videography by:  Joel Grinke
Poster: Ion Brand Design
Produced by:  Shameless Hussy Productions in collaboration with Theatre Temp's Dream Big Productions and the Girls in Leadership Club